Live and Love the Maui Kaanapali Villas Life Today
Live and Love the Maui Kaanapali Villas Life Today
Live and Love the Maui Kaanapali Villas Life Today
Live and Love the Maui Kaanapali Villas Life Today
Live and Love the Maui Kaanapali Villas Life Today
Live and Love the Maui Kaanapali Villas Life Today
1
1
Maui Kaanapali Villas Condos For Sale
Maui Kaanapali Villas also known as Hale Kaanapali sits on 11 acres of my favorite part of Kaanapali Beach (North or South). Much like the Kaanapali Ali'i there is a large collection of sand that accumulates here making the beach much wider but unlike the Ali'i- it is significantly less populated. Furthermore, there is no inner reef at this section of the beach- the sandy bottom is perfect for all sorts of lounging and playing in the water.
Built in 1975, Maui Kaanapali Villas very much still maintains that endearing classic old Hawaii charm. Within the interiors of the units, you will find an extremely wide range of finishes. Some of the units are still in fairly original condition and some of them have undergone substantial recent renovations- pricing based on these conditions is reflected in both acquisition costs as well as rental rates.
Maui Kaanapali Villas Location: 45 Kai Ala Dr, Lahaina, HI 96761, USA
Current ListingsDescriptionMapComplex MapFloor PlansSales Data
Current Maui Kaanapali Villas Condos Listings:
Sorry we are experiencing system issues. Please try again.
More Information About Maui Kaanapali Villas
Maui Kaanapali Villas is located a couple minutes walk from the backside (north side) of the renowned Black Rock. This entire portion of Kaanapali Beach is extremely chill being close to the action but serving as a nice sanctuary just far enough away from it.
Maui Kaanapali Villas is one of 3 short term wholly owned (no time-share) short term vacation rental properties on Kaanapali North Beach- Honua Kai and the Mahana  are the other two.
The views from in and around the Maui Kaanapali Villas are spectacular with year-round sunsets, Lanai island to the South, Molokai Island to the north, and is one of the very best locations for whale watching in the winter months.
Maui Kaanapali Villas sits directly on the golden sand shores of Kaanapali North Beach .
There is one central 6 story tower at Maui Kaanapali Villas where the strongest ocean views can be obtained with the exception of the oceanfront units in the E and D buildings. The surrounding buildings are all two stories bungalow style and are all garden views except for select units in E and D.
There is one main pool area located out on the oceanfront lawn and another much smaller one that is back near some of the garden view units. Here you will also find a shuffleboard arena as well the very popular Castaway Cafe restaurant serving breakfast, lunch, and dinner. Castaway is a popular pau hana (done with work) hang out spot for locals and visitors alike. Castaway's lemon ricotta pancakes are the best I have ever had and my wife goes bonkers over them!
The pool area at Maui Kaanapali Villas has beautiful views of both the ocean and the lush Mauna Kahalawai (West Maui Mountains).
Maui Kaanapali Villas is generally suited towards a bit more of a mature demographic but you will certainly find some young family staying and owner here as well. Such is the case for my clients from Utah who own MKV #292 and we manage in our rental portfolio– they have two beautiful younger girls who love all that the resort has to offer.
Maui Kaanapali Villas has a very small on-site gym and the resort is really best for just total relaxation.
Maui Kaanapali Villas #E-292 an ocean view 1bd./1ba. residence that sleeps 6 and is currently being offered for vacation rentals by Hawaii Life Vacations. Book here. 
The front desk rental program is managed by the Aston, which does make this a condotel building. There are a number of independent management companies that operate out of the Mahana as well including our own Hawaii Life Vacations where we are currently offering a recently remodeled one bedroom partial ocean view residence. All guests regardless of the rental program that they are staying with do check in at and have access to the front desk. For this, the current resort daily fee is $21.
The front desk at Maui Kaanapali Villas where all guests checkin regardless of their rental manager.
There are also a few select individuals who are self-managing their properties. Only those guests who are in the front desk Aston rental program check in at the front desk and they are the only guests who have access to the front desk services- there is only a minimal daily parking fee that independent rental guests use. The Mahana does permit Kabba locks and this is how most if not all independent rental guests access the properties.
The views from in and around the Maui Kaanapali Villas are spectacular with year-round sunsets, Lanai island to the South, Molokai Island to the north, and is one of the very best locations for whale watching in the winter months.
Condo Information
Land Area: 12 Acres

Number of Apartments: 253

Number of Floors: 6

Pool: Yes

View: Unknown

Year Built: 1967

Apartment SF: 304-1699

Number of Buildings: 8

Security: Unknown
Building Specifics
Management Company: Playground Destination Properties Inc.

Building Type: Concrete

Roof Type: Built Up, Flat

Architect: Unknown

Developer: Unknown

TMK: 2-4-4-6-11

Public Report Number: Unknown

Zoning: Apartment

Flood Zone: Yes

Owner Occupancy: Unknown

Tenure: FS

Lessor: Unknown

Lease Expiration Date: Unknown

ADA Access: Unknown

Manager on Site: No

Vacation Rental: Yes

Long Term Rental: No

Office on Site: No

Timeshare: No

All Timeshare: No

Pets: Yes
Condo Features – (May vary by unit)
Refrigerator: Unknown

Range/Oven: Unknown

Dishwasher: Unknown

Washer/Dryer: Unknown

Common Washer/Dryer: Unknown

Microwave: Unknown

Storage: Unknown
Parking
Total Stalls: Unknown

Unassigned Parking: Unknown

Stall Rental: Unknown

Visitor Parking: Unknown
Amenities
AC: Yes

BBQ: Unknown

Cable Paid by AOAO: Unknown

Clubhouse: Unknown

Elevator: Yes

Exercise Room: Unknown

Gated: Unknown

Concierge: Unknown

Recreation Area: Unknown

Restaurants Shops: Yes

Tennis Court: Unknown

Hot Tub/Spa: Yes

Event Room: Unknown
Where is the Maui Kaanapali Villas Located?
Complex Map For Maui Kaanapali Villas
Floor Plans For Maui Kaanapali Villas
Sales Data For Maui Kaanapali Villas
Maui Kaanapali Villas Average Sales Price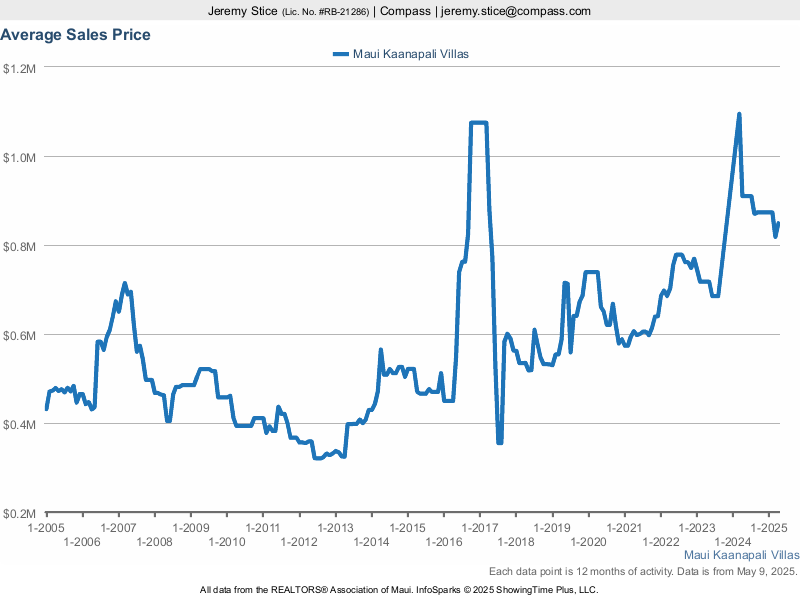 Maui Kaanapali Villas % Sold vs. Last List Price (Not Original List Price)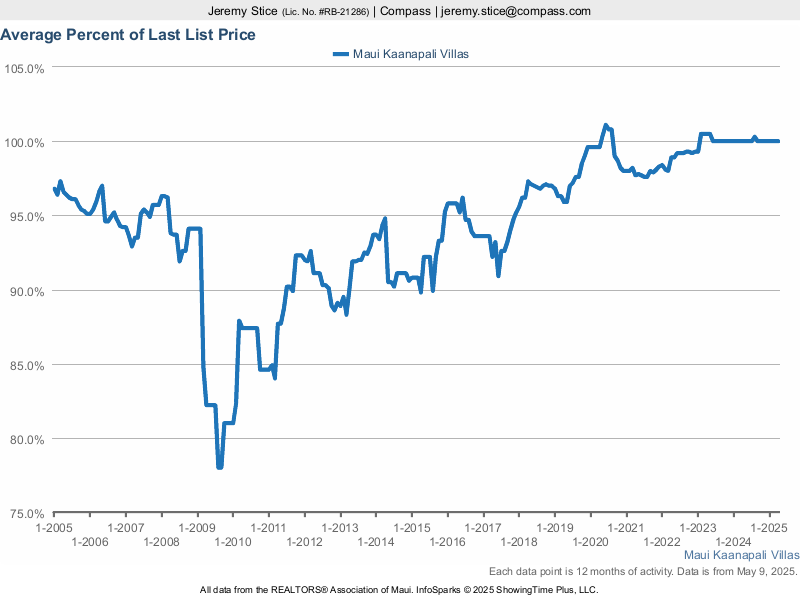 Maui Kaanapali Villas Average Days On Market Before Sold (Includes Escrow Time Period)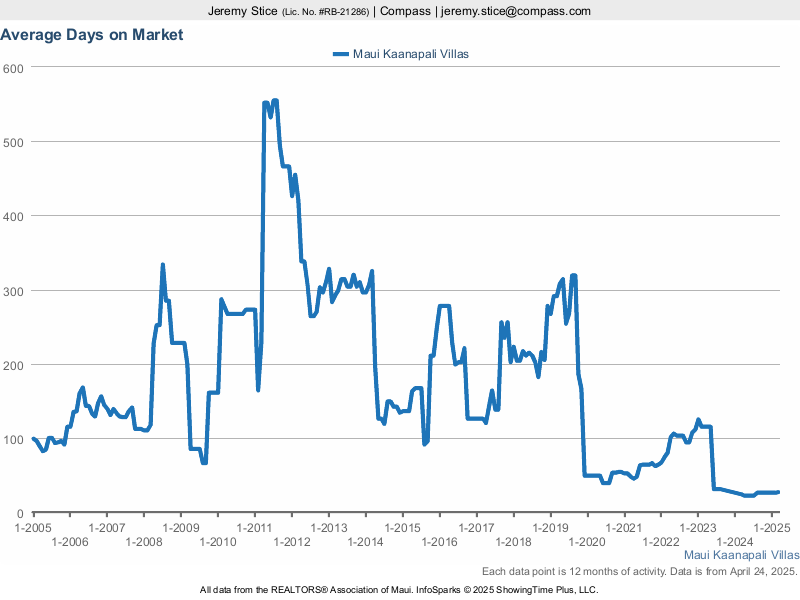 Maui Kaanapali Villas Months Supply Of Inventory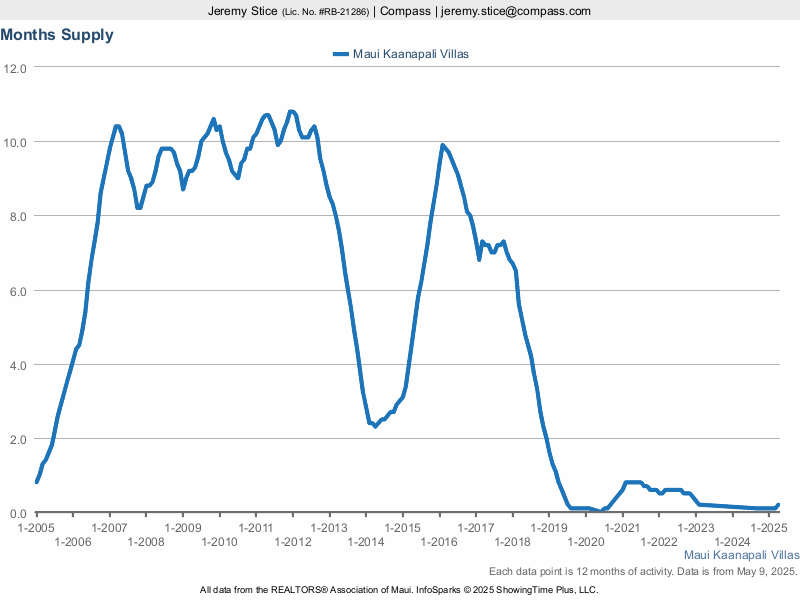 Maui Kaanapali Villas Average Price / Sq. Ft. (Interior Living Area Only, Not Lanai Areas)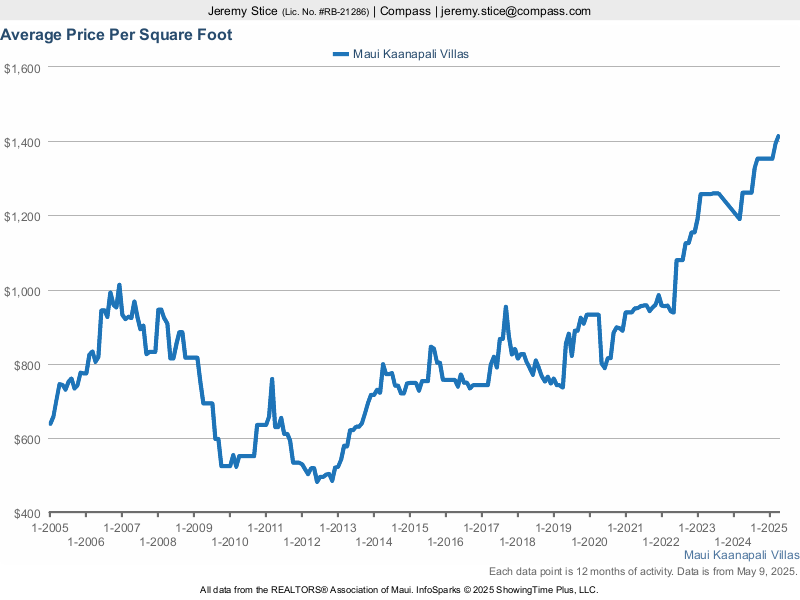 Maui Kaanapali Villas Total Closed Unit Sales Maui Kaanapali Villas Total Units for Sale