The Mahana (meaning twins in Hawaiian) The Mahana, meaning "Twins" in Hawaiian, was constructed in 1975 and has truly developed it into a special place that is defined as much by the incredible warmth of the sense of Ohana and Aloha amongst the owner community as its stunning natural beauty. It is aptly named is aptly named after its twin 12 story oceanfront towers, the Lanai tower to the south coinciding with Lanai Island, and the Molokai Tower lining up with Molokai Island to the North.
The Mahana has a very private and serene feeling. The owner and guest demographic is mature and enjoys the serenity and relative privacy of the location rather than say the neighboring Honua Kai, Papakea, and Ka'anapali Shores resorts, which are more oriented towards younger individuals and those with young children. The Mahana is located at the end of the North Kaanapali strip which means that there is very little through foot traffic in or around the resort.
Mahana Location: 110 Kaanapali Shores Place Lahaina, HI 96761 
Current Mahana Condos Listings:

Sorry we are experiencing system issues. Please try again.

More Information About Mahana
Mahana units are so close to the water that it sometimes feel like you are going to fall in. With current zoning regulations increasing shoreline setbacks on the building – The Mahana is simply irreplaceable. We are not making any more beachfront property here on Maui and this is as good as it gets.
The views from in and around the Mahana are spectacular with year-round sunsets, Lanai island to the South, Molokai Island to the north, and is one of the very best locations for whale watching in the winter months. 
All oceanfront units at the Mahana
 The Mahana is a very special and unique building in West Maui- ever single unit is oceanfront and all of them have ocean views. The Mahana literally straddles the coastline which is about 20 ft or so from the ocean making it one of the most intimate Pacific Ocean experiences that you ever find. The Mahana is also known for its floor to ceiling glass windows
The Mahana is the last real beachfront resort on Kaanapali North Beach as the seawalls up north have drastically changed the sand collection patterns. The beach in front of the Mahana is much more substantial during the summer months and does get relatively small during the winter but there is always some sand here. The Mahana and Maui Kai (right next door) also serve as the unofficial dividing line between Kaanapali and Honokowai. 
The Mahana i is one of 3 short term wholly owned (no time-share) short term vacation rental properties on Kaanapali North Beach- Honua Kai and Maui Kaanapali Villas are the other two.
Within the interiors of the units, you will find an extremely wide range of finishes. Some of the units are still in fairly original condition and some of them have undergone substantial recent renovations- pricing based on these conditions is reflected in both acquisition costs as well as rental rates.
The Mahana is absolutely perfect for a romantic couples retreat. The atmosphere is very laid back and quiet, making it very different from the majority of the other resort experiences that you will find in Kaanapali. Both the owner and guest demographic is on the more mature side who really values solitude, unparalleled views, and is content with a modest pool and amenities.
Mahana Interior Living Areas 
All of the Mahana residences feature a full kitchen and you will find: studio/one bath residences, one bedroom/ one bath residences, one bedroom/ two bath residences (master is ensuite and the other bath is off the living area), and two bedroom/ two bathroom residences.  
There are massive monkeypod trees at the entry of the resort which, like being in an atrium which provides shade for the entire parking lot and creates a garden like setting for the mountain facing bedrooms in the two bedroom residences. I have always loved monkeypod trees so it is very cool to see these absolutely massive and beautiful trees flourishing. The landscaping is pretty minimal but is well thought out and is very well kept.
Mahana Resort Amenities
On the note of amenities- there are several bbqs by the pool area (a few more in the mountainside garden area), an oceanfront shuffleboard area, and a tennis court that also is taped out for pickleball (yea! I recently just started playing and love it). There is no gym but there is a private gate from the outside of the Mahana that leads out to Kahekili Beach Park which is the north starting end of the Kaanapali North Beach walk.  
The front desk rental program is managed by the Aston, which does make this a condotel building. There are a number of independent management companies that operate out of the Mahana as well including our own Hawaii Life Vacations where we are currently offering two different one bedroom residences. There are also a few select individuals who are self managing their properties. Only those guests who are in the front desk Aston rental program check in at the front desk and they are the only guests who have access to the front desk services- there is only a minimal daily parking fee that independent rental guests use. The Mahana does permit Kabba locks and this is how most if not all independent rental guests access the properties.
The Mahana has a very consistent repeat following and the length of stay for both owners and guests is relatively longer than you would find in some of the surrounding buildings (believe me, it's tough to leave this place).
The Mahana is located directly across the street from a small shopping center where you will find a full service grocery store, a few small shops, and several restaurants (my favorites are Java Jazz and Slappy Cakes-make your own pancakes yum!) Additionally there is a food truck station going in shortly right outfront of the Mahana at Kaanapali.
People visit the Mahana to decompress so you will see a lot of book reading poolside or at the oceanfront lawn and very intimate quiet gatherings of friends and family around the pool.
The Mahana is within short walking distance to the Dukes Beachfront Restaurant located at the adjoining Honua Kai Resort and Spa.
The board at the Mahana prides itself on responsibly operating and running the complex. There are healthy financial reserves, the building is in excellent condition and very attractive physical condition, and the grounds are well groomed and beautiful. There is constant vigilance exercised keeping the building secure and no pending assessments in the current or foreseeable future.
The Mahana's physical buildings are in great condition, they just recently installed all new aluminum frame exterior doors on all of the units with some of the owners electing to go for a beautiful etched privacy glass finish as well. The only current project still looming that I am aware of is that they will be replacing the railings on the exterior lanais this year.

One of my more recent seller clients noted that "the Mahana is in the sweet spot now."
If you are considering investing at the Mahana, I kindly invite you to stay at one of our two spectacular one bedroom rentals that we are currently offering. We will be adding to our portfolio here in the relatively near future.
Mahana #718  |  Mahana #608
Condo Information
Land Area: 5 Acres

Number of Apartments: 216

Number of Floors: 12

Pool: Yes

View: Mountain, Ocean, Garden

Year Built: 1945

Apartment SF: 456-1214

Number of Buildings: 2

Security: Yes
Building Specifics
Management Company: Management Consultants of HI Inc.

Building Type: Concrete

Roof Type: Built Up

Architect: Unknown

Developer: Mainline Properties of America

TMK: 2-4-4-001-099

Public Report Number: 570

Zoning: H-2

Flood Zone: Yes

Owner Occupancy: 10%

Tenure: FS

Lessor: Unknown

Lease Expiration Date: Unknown

ADA Access: No

Manager on Site: Yes

Vacation Rental: Yes

Long Term Rental: Yes

Office on Site: Yes

Timeshare: No

All Timeshare: No

Pets: No
Condo Features – (May vary by unit)
Refrigerator: Yes

Range/Oven: Yes

Dishwasher: Yes

Washer/Dryer: Yes

Common Washer/Dryer: Unknown

Microwave: Yes

Storage: Yes
Parking
Total Stalls: 216

Unassigned Parking: Yes

Stall Rental: Yes

Visitor Parking: Yes
Amenities
AC: Yes

BBQ: Yes

Cable Paid by AOAO: Yes

Clubhouse: Yes

Elevator: Yes

Exercise Room: Unknown

Gated: Unknown

Concierge: Yes

Recreation Area: Yes

Restaurants Shops: Yes

Tennis Court: Yes

Hot Tub/Spa: Yes

Event Room: Yes
Where is the Mahana Located?
Sales Data For Mahana
Mahana Average Sales Price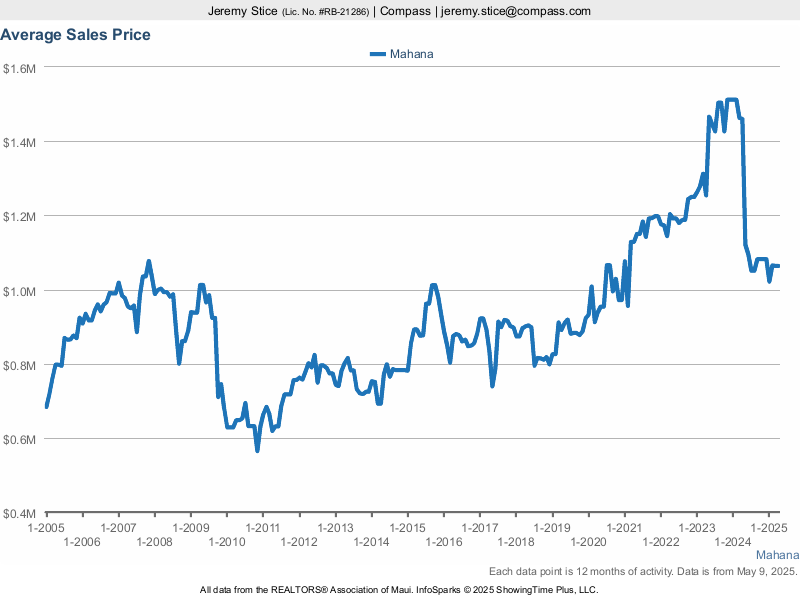 Mahana % Sold vs. Last List Price (Not Original List Price)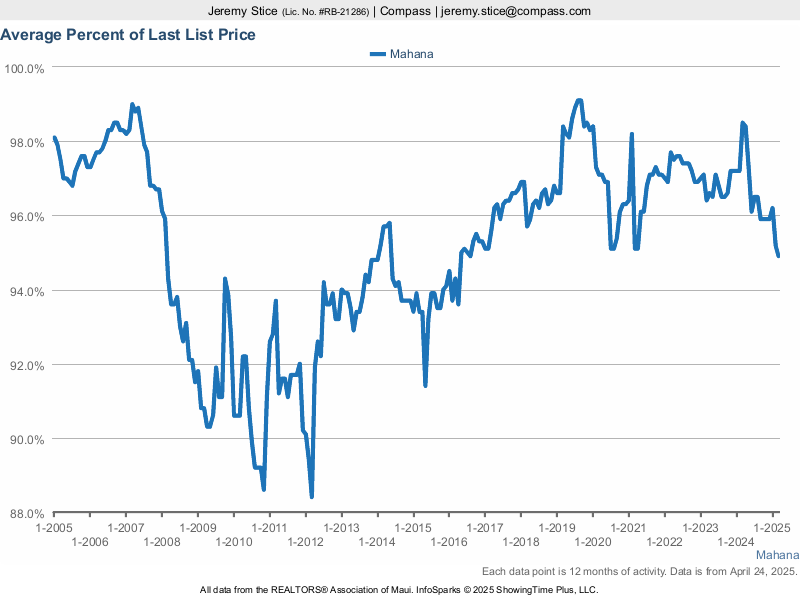 Mahana Average Days On Market Before Sold (Includes Escrow Time Period)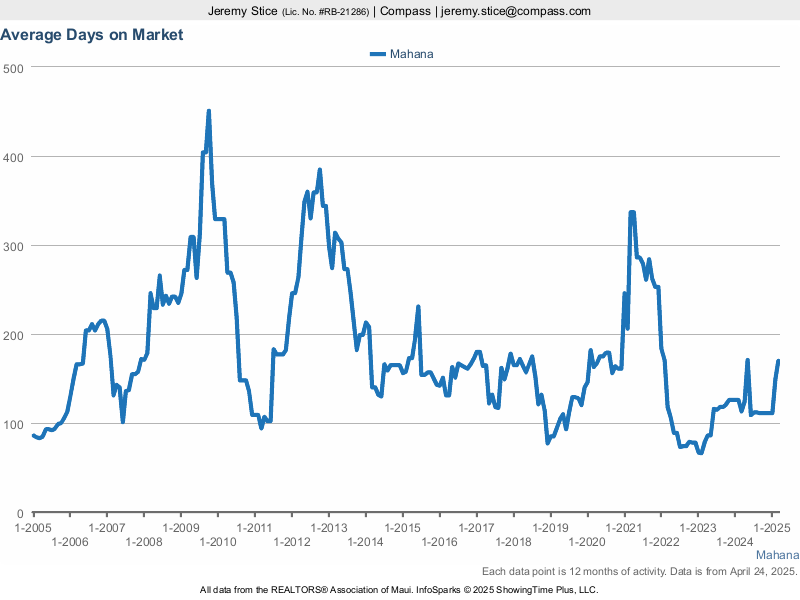 Mahana Months Supply Of Inventory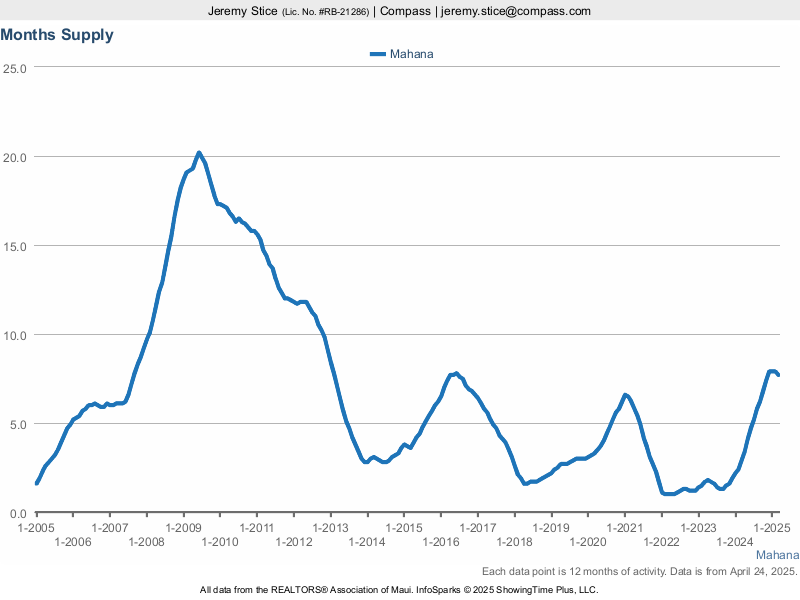 Mahana Average Price / Sq. Ft. (Interior Living Area Only, Not Lanai Areas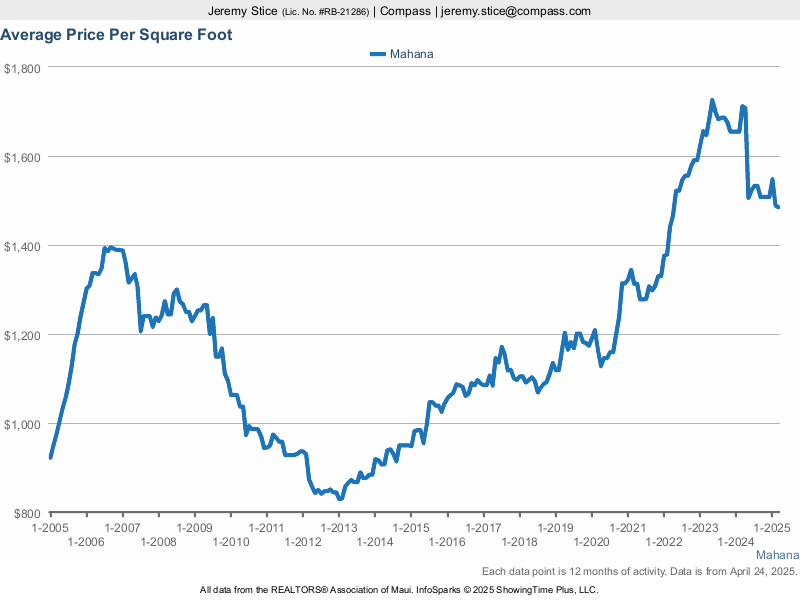 Mahana Total Closed Unit Sales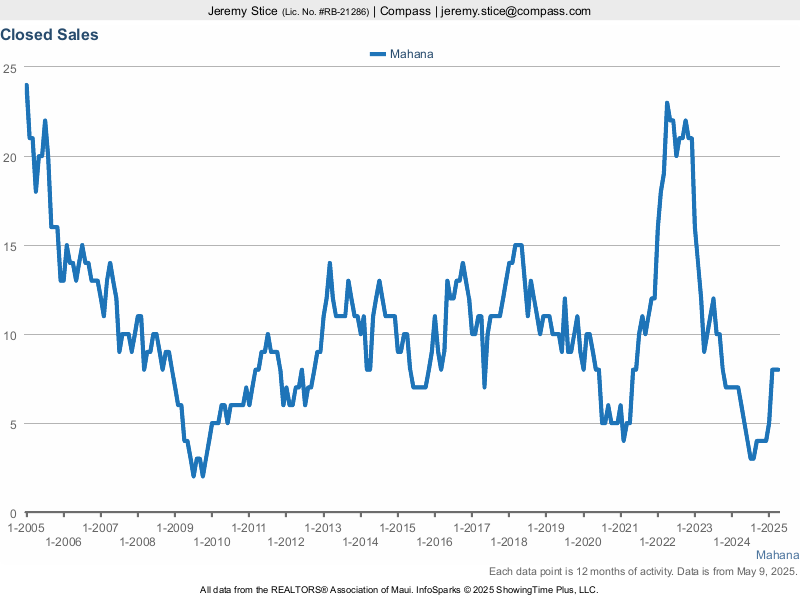 Mahana Total Units for Sale Jeremy Stice is the Author of the Maui Real Estate Guidebook.
Sign up to our newsletter to recieve updates.