HOYOCHI NIKKO CONDOS FOR SALE
Hoyochi Nikko Condos For Sale
Hoyochi Nikko Location: 3901 Lower Honoapiilani # 101, Lahaina, HI 96761
Current Hoyochi Nikko Condos Listings:
Get new listing alerts delivered to your inbox.
More Information About Hoyochi Nikko
The Hoyochi Nikko is a unique Japanese architecture condominium 18 unit complex with 180-degree oceanfront views and located right up front on Mahinahina Bay. Hoyochi Nikko offers seclusion and privacy seldom found in resort living. Steps leading into the ocean where you will find excellent swimming, snorkeling, turtle watching, whale watching, ocean kayaking, and surfing. Hoyochi Nikko is just minutes away from the historic Whaling Village of Lahaina.
Condo Information
Land Area: 0.598 Acres

Number of Apartments: 18

Number of Floors: 2

Pool: Yes

View: Ocean, Island

Year Built: 1973

Apartment SF: Unknown

Number of Buildings: 1

Security: No
Building Specifics
Management Company: Hawaiiana Mgmt Co LTD. 

Building Type: Concrete, Tile

Roof Type: Unknown

Architect: Unknown

Developer: Mahinahina Group

TMK: 2-4-3-008-006

Public Report Number: Unknown

Zoning: A-1

Flood Zone: Unknown

Owner Occupancy: 6%

Tenure: Unknown

Lessor: Unknown

Lease Expiration Date: Unknown

ADA Access: Unknown

Manager on Site: Unknown

Vacation Rental: Unknown

Long Term Rental: Unknown

Office on Site: Unknown

Timeshare: Unknown

All Timeshare: Unknown

Pets: No
Condo Features – (May vary by unit)
Refrigerator: Yes

Range/Oven: Yes

Dishwasher: Yes

Washer/Dryer: Yes

Common Washer/Dryer: Unknown

Microwave: Yes

Storage: Unknown
Parking
Total Stalls: Unknown

Unassigned Parking: Yes

Stall Rental: Unknown

Visitor Parking: Unknown
Amenities
AC: Unknown

BBQ: Yes

Cable Paid by AOAO: Yes

Clubhouse: Unknown

Elevator: Unknown

Exercise Room: Unknown

Gated: Unknown

Concierge: Unknown

Recreation Area: Yes

Restaurants Shops: Unknown

Tennis Court: Unknown

Hot Tub/Spa: Unknown

Event Room: Unknown
Where is the Hoyochi Nikko Located?
Sales Data For
Average Sales Price % Sold vs. Last List Price (Not Original List Price)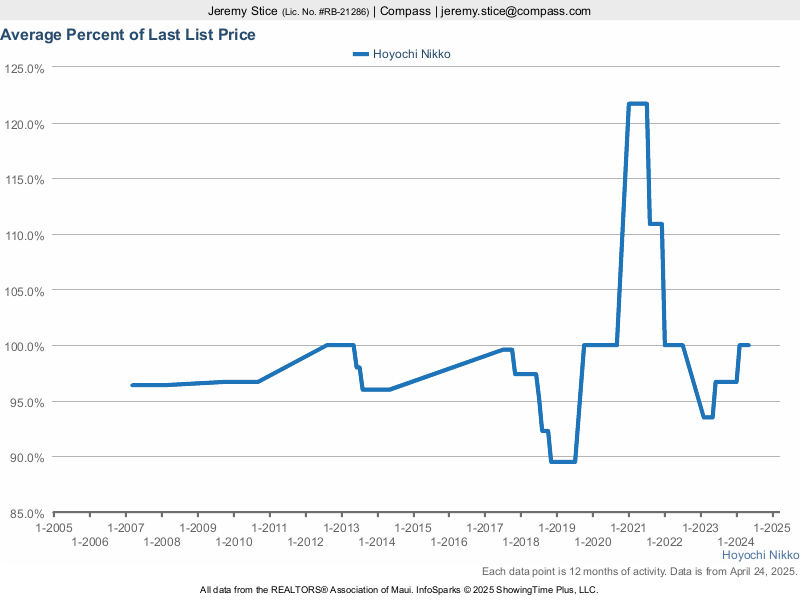 Average Days On Market Before Sold (Includes Escrow Time Period)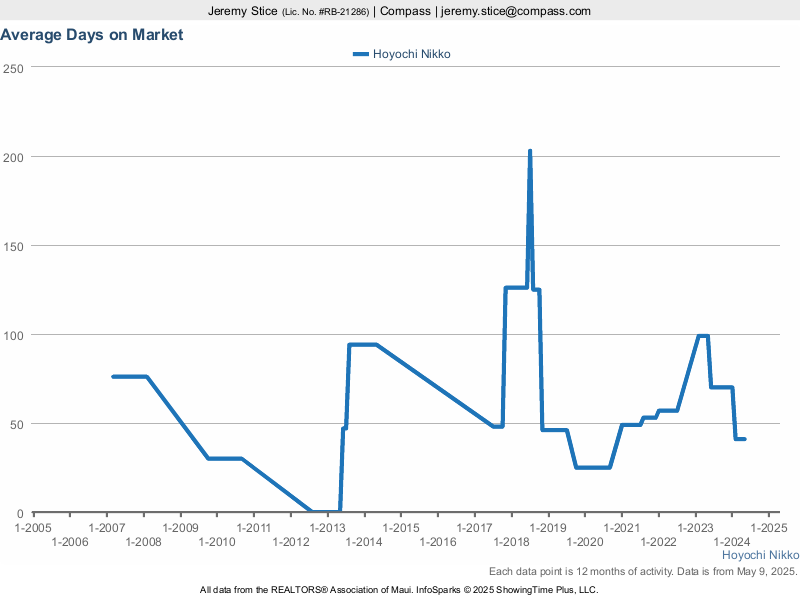 Months Supply Of Inventory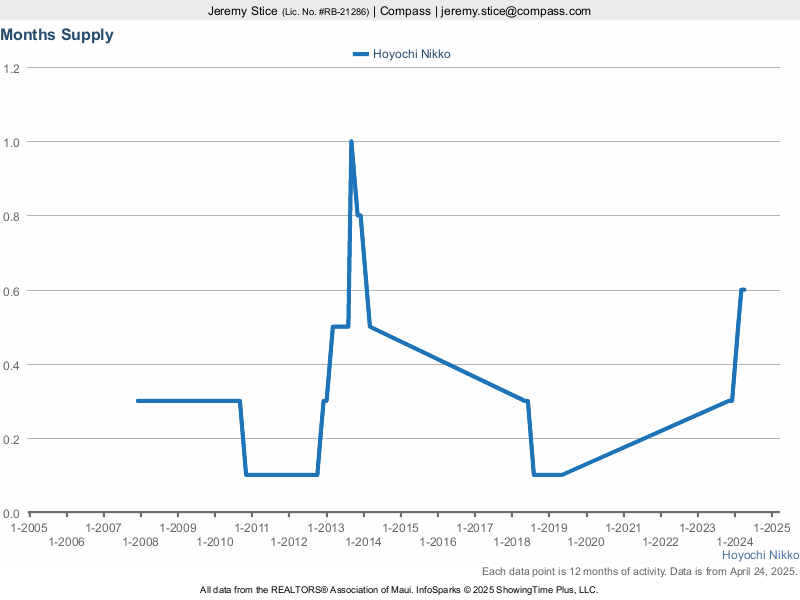 Average Price / Sq. Ft. (Interior Living Area Only, Not Lanai Areas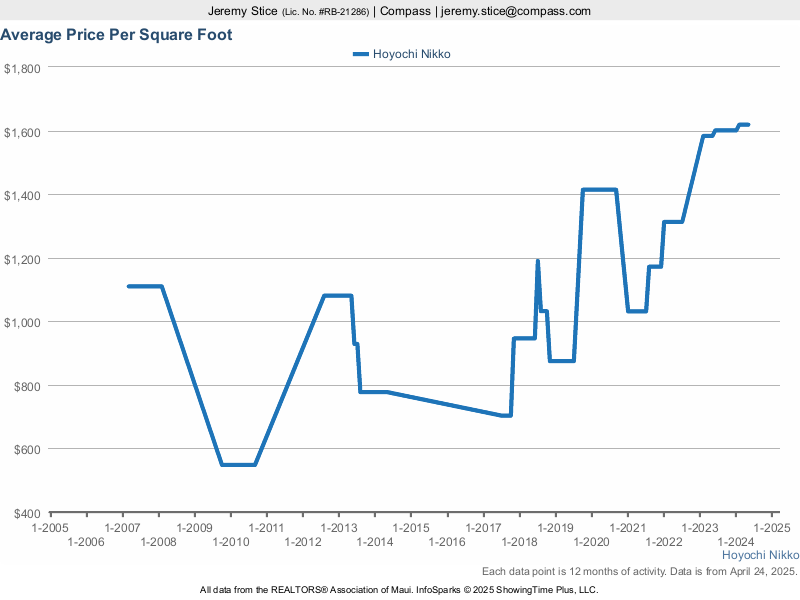 Total Closed Unit Sales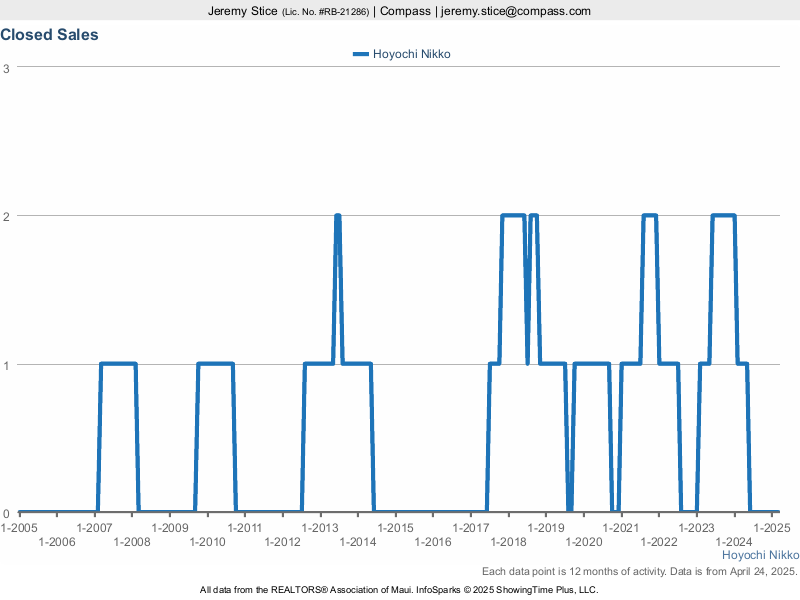 Total Units for Sale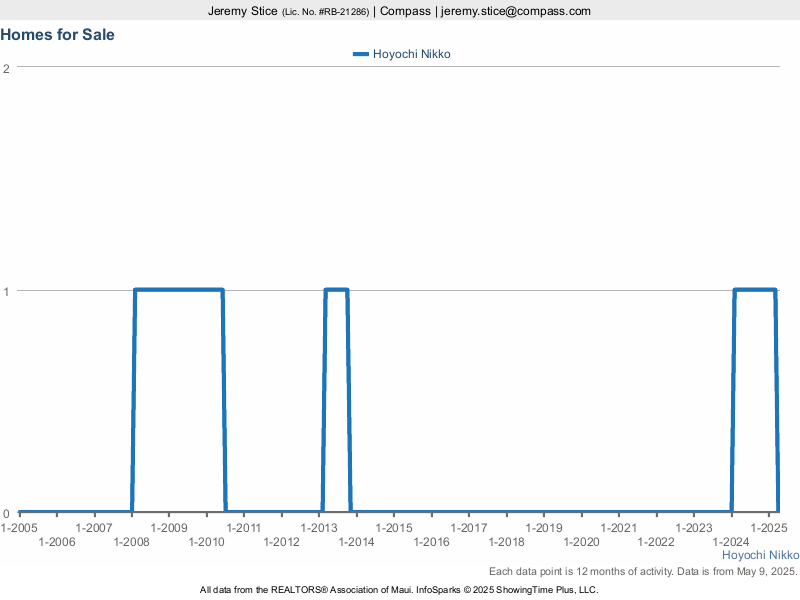 Jeremy Stice is the Author of the Maui Real Estate Guidebook.
Sign up to our newsletter to recieve updates.