HALE MAHINA CONDOS FOR SALE
More Information About Hale Royale
Hale Mahina is quaint direct oceanfront 4 story vacation rental complex located right in the heart of Honokowai. All of the units in Lokelani are leasehold rather than fee simple which is the form of ownership that most are familiar with. Basically, you don't have an ownership interest in the underlying land of the complex-you own the improvements (the unit itself and a percentage in the common elements) but not the land. Thus, there is an additional leasehold (land) fee to the fee owner each month.
There is a year round beach that is directly in front of Hale Mahina and access to this beach is easily made by a couple steps with and a railing leading down to this small, yet gorgeous beach. Lokelani has fantastic year views of both Molokai and Lanai island, year round sunsets, and is fantastic for whale watching.
Lease fees are roughly $830 per month in addition to the HOA fees which are also about $830 per month
Hale Mahina is moderately quiet resort (less solitude than neighboring Lokelani but more than Papakea). If you are looking for a large resort with a lot of amenities, this is not the spot for you. If you want to enjoy a spectacular beachfront setting with drop dead gorgeous views while reading your booking listening to birds chirp and waves lap the shoreline, it is tough to beat Hale Mahina.
Hale Mahina Location: 3875 Lower Honoapiilani Rd a107, Lahaina, HI 96761, USA
Current Hale Royale Condos Listings:

Sorry we are experiencing system issues. Please try again.


More Information About Hale Mahina
Hale Mahina Location
Hale Mahina, which means "House of the Moon" , is a 4 story mid size density beachfront complex that sits directly on lower Honoapiilani Rd.  Hale Mahina is located between Lokelani to the South and a few residential homes directly on the road and then the adjoining Hyochi Nikko condos to the North.  The most desirable aspect of ownership at Lokelani has to be the access to the small beach which adjoins in and the neighboring Lokelani Resort. The entry to the water is very calm and inviting unless there are large winter surf swells. The swimming, kayaking, and stand up paddling are absolutely fantastic right out front of the resort.
Hale Mahina Property Improvements
There is a small seawall fronting Hale Mahina on the northern beach and there is a very consistent beach out front that has been there a long time and there are no current erosion issues.   The onsite resident manager keeps very close tabs on everything at the complex.
The vast majority of the units have split air conditioning units as there is no central air conditioning for the buildings. Split systems are extremely efficient, can be controlled independently by room, and are much classier location than in wall/window box units.


Hale Mahina Amenities
The pool and spa at Hale Mahina despite their quaint size, are very nice and have an awesome garden like setting on the oceanside of the property. There is a beautiful grassy lawn out front for playing bocce ball or lounging in a chase.
There are oceanfront BBQ grills on each side of the grassy lawn out front of the complex.
The oceanfront lawn at Lokelani is not easily accessed unless you are staying at the resort or the adjoining one, Hale Mahina as there is a locked combo gate between the mountain side pool area and the oceanside lawn. The beach is not private as none in Hawaii are but it is not easy to get to it or well known if you are staying in direct proximity to it.
There is a leased Solar PV system that helps to power many of the common elements at Hale Mahina which will really help to keep the HOA fees consistent moving forward into the future.


Hale Mahina Vacation Rentals
There is no onsite management company for Lokelani and thus the owners who do rent their properties while not occupying them do so on their own or rent independent management companies. With this, the property is highly desirable and some very considerable rents can be obtained.


Hale Mahina HOA Fees
The HOA fees at Hale Mahina are very reasonable at roughly 1.03/sq.ft. of interior living area but do not cover electric costs so you will want to budget for this. The complex doesn't allow pets of any kind. The HOA fees do cover electric at Hale Mahina.


Hale Mahina Real Estate Offerings
There are one bedroom (700-800 sq.ft.) , two bedroom (900-1,110 sq.ft.), and three bedroom (1,800 sq.ft. offerings at Hale Mahina all of which are leasehold ownership.
Condo Information
Land Area: 2 Acres

Number of Apartments: 50

Number of Floors: 4

Pool: Yes

View: Ocean

Year Built: 1980

Apartment SF: 690-2218

Number of Buildings: 690-2218

Security: No
Building Specifics
Management Company: Management Consultants of Hawaii Inc.

Building Type: Concrete, Masonry

Roof Type: Shakes, Tile

Architect: Unknown

Developer: Inland Marine Builder

TMK: 2-4-3-006-041

Public Report Number: 1005

Zoning: A-2

Flood Zone: Yes

Owner Occupancy: 20%

Tenure: LH

Lessor: Fujiwara, George M Trust

Lease Expiration Date: 2/15/2048

ADA Access: No

Manager on Site: No

Vacation Rental: Yes

Long Term Rental: Yes

Office on Site: No

Timeshare: No

All Timeshare: No

Pets: Yes
Condo Features – (May vary by unit)
Refrigerator: Yes

Range/Oven: Yes

Dishwasher: Yes

Washer/Dryer: Yes

Common Washer/Dryer: No

Microwave: Yes

Storage: Unknown
Parking
Total Stalls: Unknown

Unassigned Parking: Unknown

Stall Rental: Unknown

Visitor Parking: Unknown
Amenities
AC: Varies per residence

BBQ: Yes

Cable Paid by AOAO: Unknown

Clubhouse: Small cabana by pool

Elevator: Yes

Exercise Room: No

Gated: Yes

Concierge: No

Recreation Area: Yes

Restaurants Shops: Short driving distance

Tennis Court: No

Hot Tub/Spa: Small jacuuzi

Event Room: No
Where is the Hale Mahina Located?
Sales Data For Hale Mahina
Hale Mahina Average Sales Price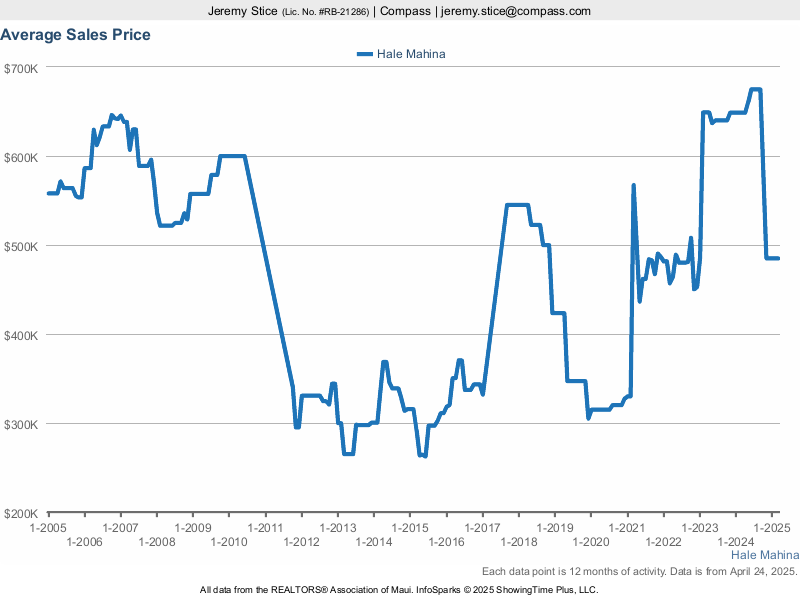 Hale Mahina % Sold vs. Last List Price (Not Original List Price)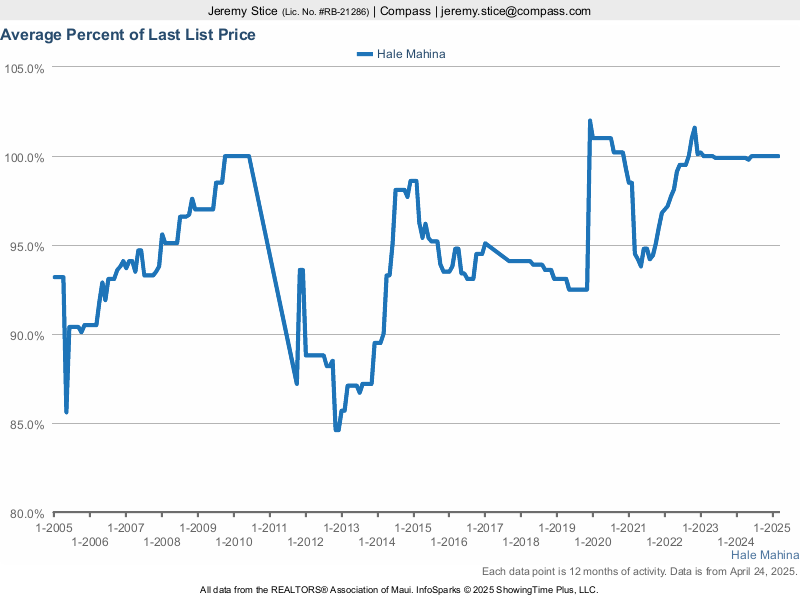 Hale Mahina Average Days On Market Before Sold (Includes Escrow Time Period)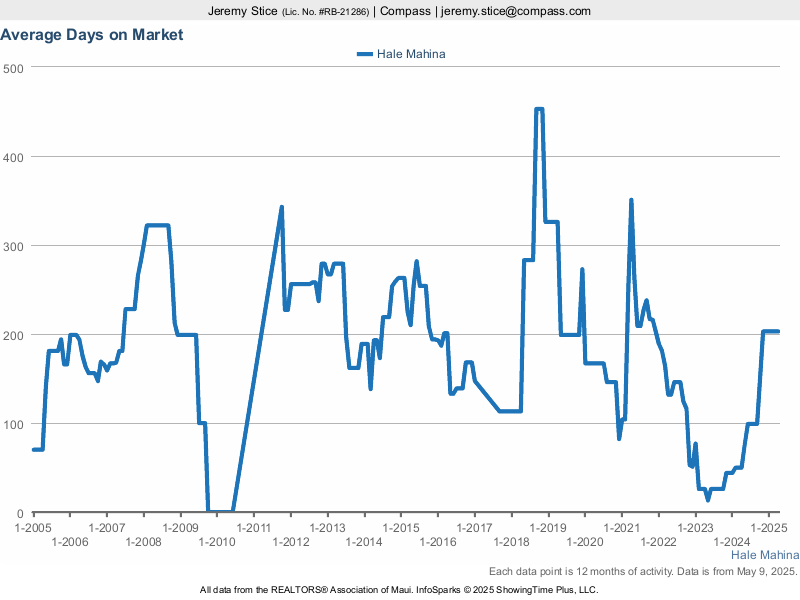 Hale Mahina Months Supply Of Inventory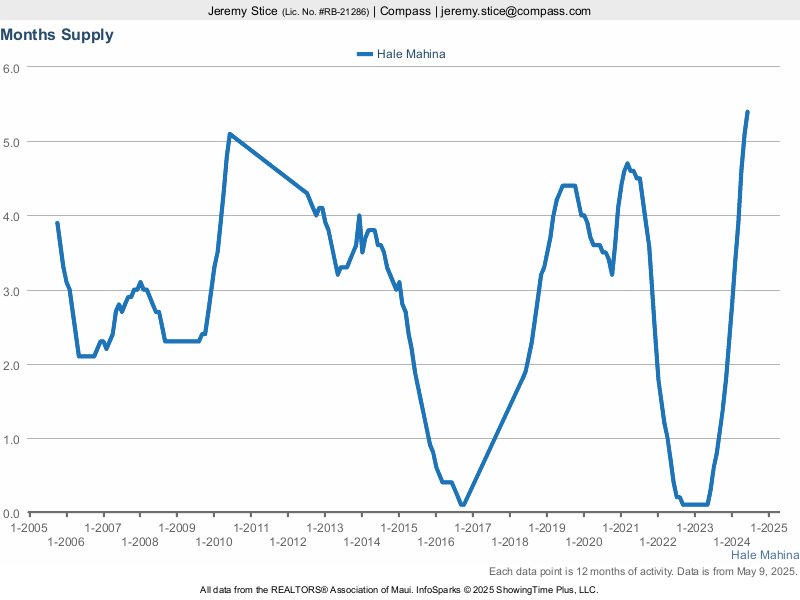 Hale Mahina Average Price / Sq. Ft. (Interior Living Area Only, Not Lanai Areas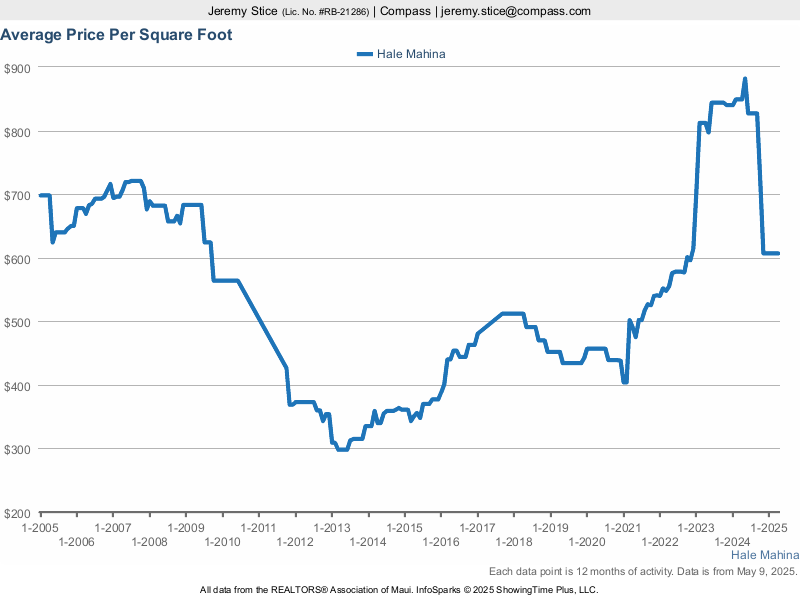 Hale Mahina Total Closed Unit Sales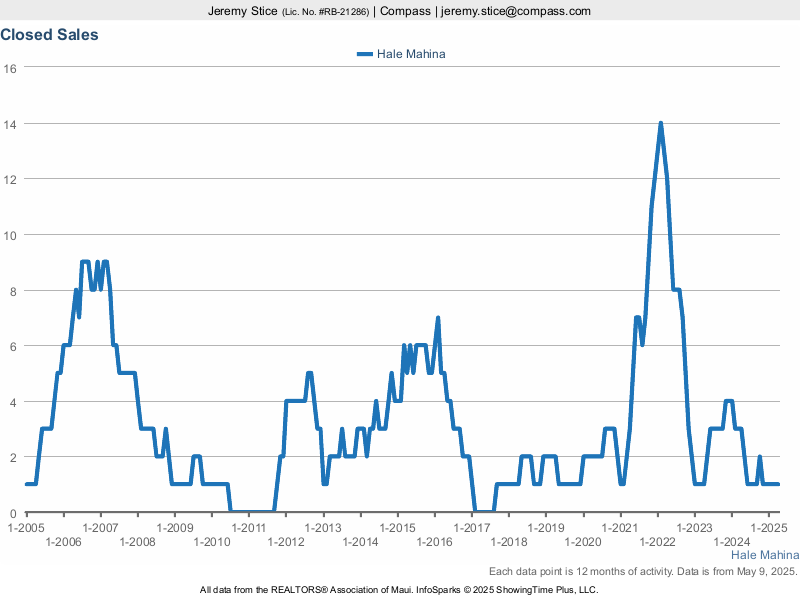 Hale Mahina Total Units for Sale Jeremy Stice is the Author of the Maui Real Estate Guidebook.
Sign up to our newsletter to recieve updates.